#MoveSolarToTheCity: a Candlelight Vigil and a Poetry-in-Motion
A memorial and candlelight vigil for the Life being destroyed. A rally to Protect Mojave and Move Solar to the City. A poetry-in-motion.
Date and time
Sat, Sep 24, 2022, 4:00 PM –
Sun, Sep 25, 2022, 12:00 PM PDT
Location
Yellow Pine Energy Center (outside fence) off of Tecopa Road
Tecopa Rd
look for rabbit flags
Pahrump, NV 89124
Event contacts
Shannon Salter shannon.salter@gmail.com
Ruth NolanRUNolan@aol.com
About this event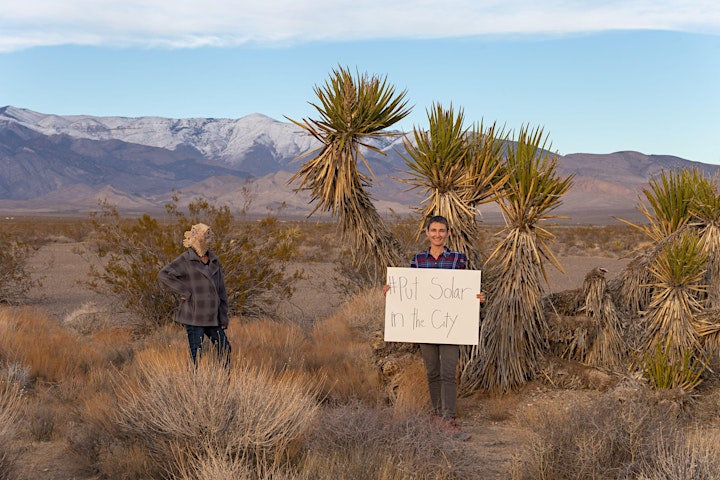 Please join us for an homage to the living valley, a Memorial for the life that has been lost at the Yellow Pine Solar site, and a rally to protect natural ecosystems by moving Solar to the City. This is a poetry-in-motion, a poetry of action both inside and outside of language.
Speakers include Nevada's own Claire Vaye Watkins and the Poet Laureate of the Mojave Desert, Ruth Nolan. As part of the global 100,000 Poets for Change initiative (https://100tpc.org/), this event is calling for environmental justice and calling out the ecocide that is happening at utility scale solar sites. There will be food and drinks, campfire and camping on site. Sponsors include Mojave Green, Basin and Range Watch, College of the Desert, and Friends of the Amargosa Basin.
Gather at 4pm near the Yellow Pine solar site (look for flags at the south side, about three miles down Tecopa Rd from HWY 160).
Beginning at sundown, we will hold a candlelight vigil. If possible, please bring flowers or an object to place at the memorial near the Yellow Pine Solar fence, as well as a candle. Feel free to bring signs with messages about other proposed utility-scale solar sites or in support of Distributed Energy alternatives. Participants are also encouraged to contribute to the Mizpah (rock pile) representing a sacred bond between us and the living world.
Staying overnight: Bring your own gear and camp on site with us. For hotel accommodations, check out the Shoshone Inn and the Tecopa Hot Springs Resort about 35 miles south of the site. There are also hotels in Pahrump, about 15 miles away.
Have a poem or a song you'd like to share at the event? Email MojaveGreen8@gmail.com.
Background:
We need to rethink truly sustainable energy production. Biden and Haaland are pushing for utility-scale solar and wind on public land, but this would mean bulldozing millions of acres of pristine, in-tact ecosystems in the Mojave and Great Basin Deserts of Nevada and California, as well as in wild areas around the country. The Yellow Pine Solar facility in the Pahrump valley is destroying 92,000 Mojave Yucca and hundreds of thousands of creosote (the root systems of which can be 11,000 years old). Biologists dug up 140 federally-threatened desert tortoises from their burrows on the site and moved them across Tecopa Road. In the first week, 26 were eaten by badgers.
The Bureau of Land Management is considering applications for six other solar projects in this valley, totaling 30,000 acres and half a million Mojave Yucca. At 3,000 acres, Yellow Pine is only 1/10th of the planned destruction, and the Pahrump Valley is only the first of many valleys throughout Nevada and California to be targeted for utility-scale solar. Deserts are storing carbon just like forests. When we bulldoze the ancient desert crust and all of the plants, we lose that carbon storage capacity, and this offsets some of the emissions we save.
That is why we are rallying to protect natural ecosystems and Move Solar to the City. We have at least 2.5 million acres of exposed parking lots in the United States, and likely far more. Many of these are sweltering, ugly spaces with no shade. Building solar-shade canopies over parking lots would make our suburban landscapes more livable, while allowing us to preserve the wild, natural places that provide critical habitat for so many species. This would also eliminate the need for vast transmission lines, which lose about six percent of the electricity they carry, create wildfire hazards, and require more land-clearing.
Here is the Yellow Pine Solar site before and after it was bulldozed: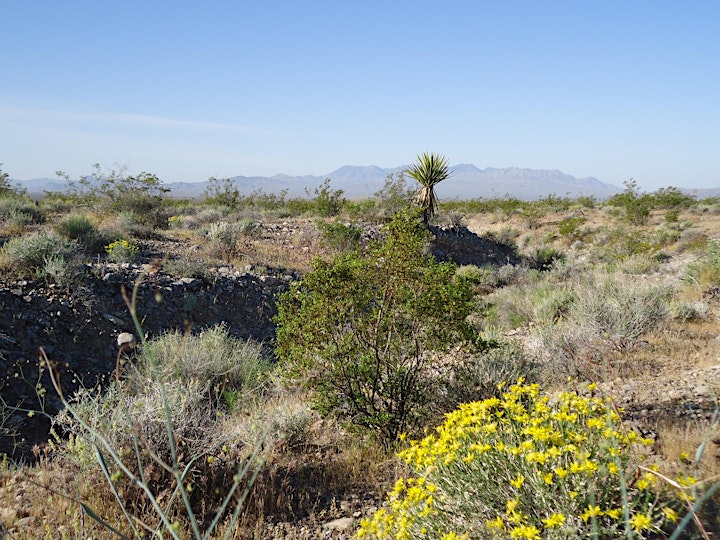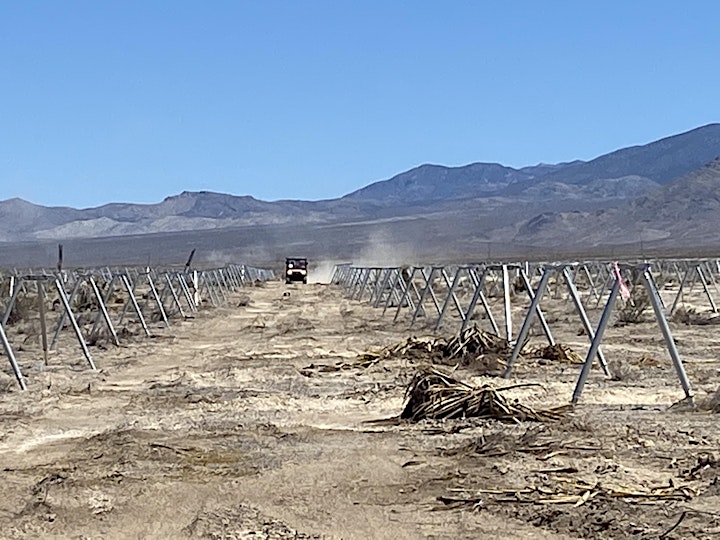 For questions and information, email MojaveGreen8@gmail.com.
Visit MojaveGreen.org for more information about Camp Yellow Pine, the Jackrabbit Reading series, and the catastrophe of Big Solar in the desert.
Follow us on Twitter @MojaveGreen8
Sign the petition at Change.org/MoveSolarToTheCity